back to the overview
Team Interviews | 05.05.2022
Ben Zwiehoff: "Finding and pushing my personal limits again and again really keeps me stoked and motivated!"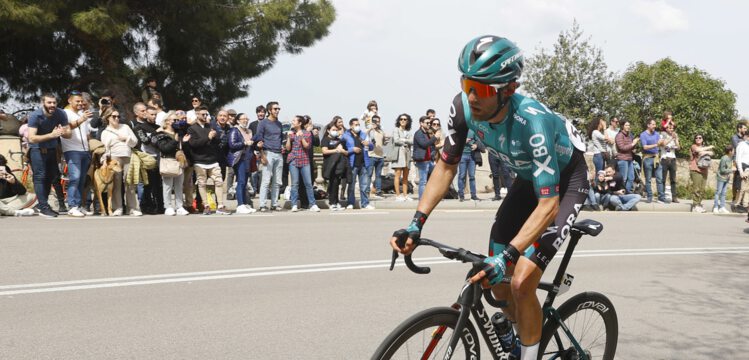 From a 1.5-hour cross country race to the third week of a Grand Tour. Ben Zwiehoff is the guy who swapped knobby for skinny tires to become a professional road cyclist. The former off-road specialist from Dortmund is currently in his second season with BORA - hansgrohe and ready to take on his second Grand Tour - the Giro d'Italia. As part of this interview series, the mountain goat from the German flatlands talks about his development as a road cyclist, his friendship with Lennard Kämna and the advantages of mountain bike skills in road racing.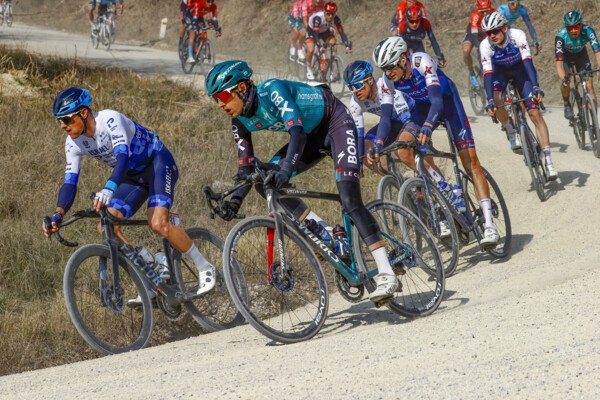 Where are you right now and what's next on your schedule?
I'm at home in Dortmund, Germany at the moment. I haven't spent much time here this year, so I'm really enjoying spending some time with my wife and our dog before heading to the Giro d'Italia.
It's your second year with BORA - hansgrohe and your second year as a professional road cyclist. What have your experiences been like since joining the team?
It's been an incredibly exciting time in which I learned and experienced a lot! Personally, I'd also describe it as a successful time. Two weeks ago, in the first stage of the Tour of the Alps I was really close to sealing my first win. A bit more experience and a bit more luck at some point and I'll be able to get a result pretty soon. The small steps and goals on my path really motivate me to keep pushing and definitely prove we're on a good path with this project.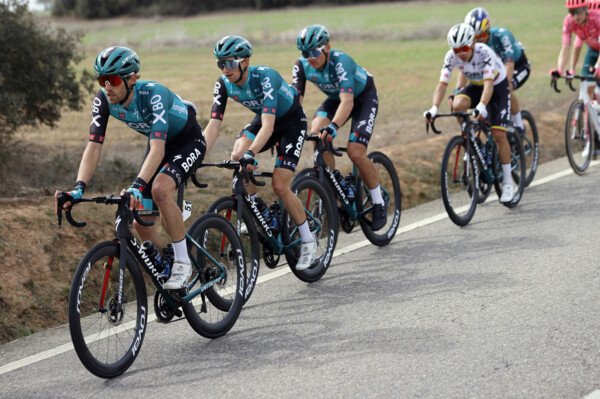 Describe your personal development since joining BORA - hansgrohe:
First of all, I'd say I've been able to establish myself on the road. Thanks to my teammates and the sports directors I have been able to learn a lot in a very short time. Sometimes it feels a bit like I've been riding on the road for much longer than I actually have been. In some situations, I'm still missing that level of coolness, which one probably can only achieve from racing yourself, and can't be gleaned from the experience of your teammates, I guess.
The transformation from the mountain bike to the road – an accomplished project?
Yeah, definitely! I'm 100% a road cyclist now, still with a limited amount of experience, but I'm a professional road cyclist and not the mountain bike guy who's testing himself on the road anymore. Of course, mountain biking and the wonderful times I've had racing mountain bikes will always remain as a part of my identity.
Are there any off-road skills that give you an advantage on the road now?
I think the bike handling is definitely an advantage. Knowing how to push the limits of the tires and bike, especially in bad weather and on tricky descents. Where others start to struggle I usually start having fun.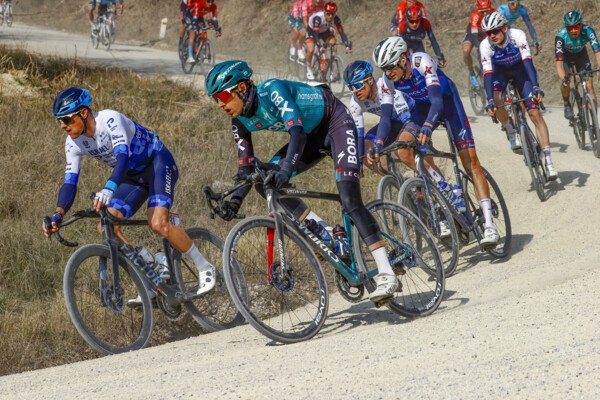 What keeps you motivated?
Finding and pushing my personal limits again and again really keeps me stoked and motivated!
How do you recover - mentally and physically?
The best recovery for me is the time at home with my wife, my family and our dog. Here I can really find some well-needed rest after intense weeks on the road and recharge my batteries. The cycling world is sometimes a crazy bubble and I think for me it's the normal life at home that gets me grounded again.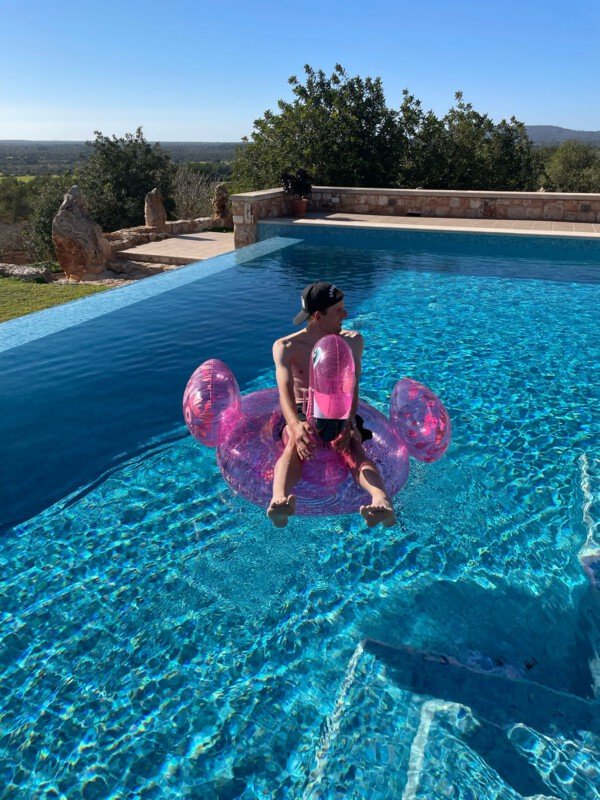 Cycling in three words:
Pain - fun – passion.
Favorite moment on a race day?
The last climb of the day, only a small bunch of riders are left and you feel strong.
Or: You're in a breakaway and slowly you realise the gap is big enough and the group has a real chance of making it to the finish line. Those are the moments when I know I chose the right job!
From the physical perspective: What changed for you since turning professional on the road?
The biggest change for me was the length of the races. I used to race XC races, they usually weren't longer than two hours. Today I'm racing several consecutive days with at least four hours a day, or often longer. But it seems like my body has adapted very well to this and especially the long days or a third week of a Grand Tou suit me quite well.
Last year you did the Cape Epic in South Africa together with Lennard Kämna. The most prestigious mountain bike stage race is raced in teams of two - did the Epic raise the relationship between you and Lennard to a level beyond just being teammates?
Absolutely! Already before Cape Epic, Lennard was a really important teammate for me. He shared a lot of his experiences and was a great help on many sides. Through him I also got the chance to catch up on so much knowledge about road cycling in a very short time. At Cape Epic it was my turn to give something back to him - a super nice experience! We had a really intense time there and got to know each other even better. I can definitely say that I think the world of this guy - as a rider, as a human being and as a friend. If I could be able to achieve only 95% of being like Lennard Kämna - I'd call my career successful.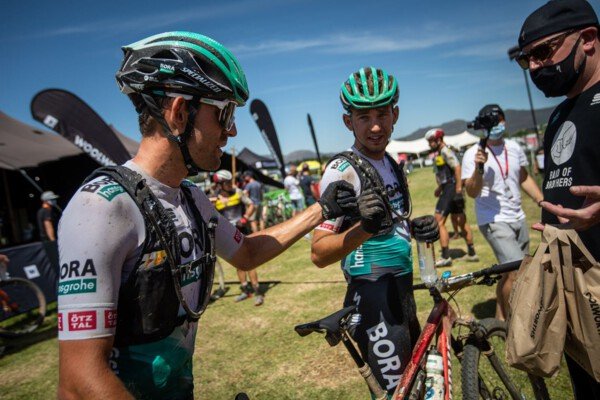 Mountain bikers are often known as very good climbers: as which type of rider would you describe yourself?
I'm a climber, on a good day I stay among the best climbers for quite a long time, and that's also where I see my tasks for the team. Supporting our leaders as long as possible and preparing the finale for them.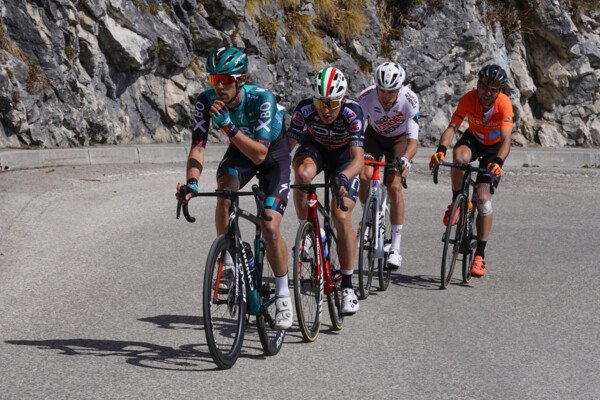 The Giro is your second Grand Tour within ten months. What did you learn from the Vuelta and what will your tasks be at the Giro?
If you can see Cape Epic as an off-road Grand Tour, the Giro would then be the third Grand Tour within ten months! In any event, those three races back-to-back are quite an intense program and I'm not sure if any rider has ever done that before. Thanks to a perfect schedule and training program it was all possible for me and I'm in great shape. My tasks will mainly be in the mountains and in the third week. With my experience from the Vuelta, I'll save as much energy as possible in the first two weeks and of try to stay out of trouble.