back to the overview
Team Interviews | 30.01.2022
A cycling career that started with a crash - Sergio Higuita, a small Colombian on the big stage of professional cycling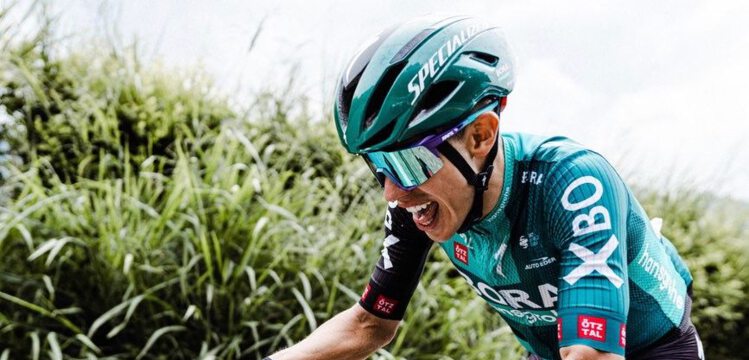 Sergio Higuita isn't just an up-and-coming young pro cyclist. The GC specialist and climber is also the very first Colombian rider to join the ranks of BORA - hansgrohe. In our interview, he talks about Frankfurter Würstchen, the advantage of the Colombians and his main goals for this season.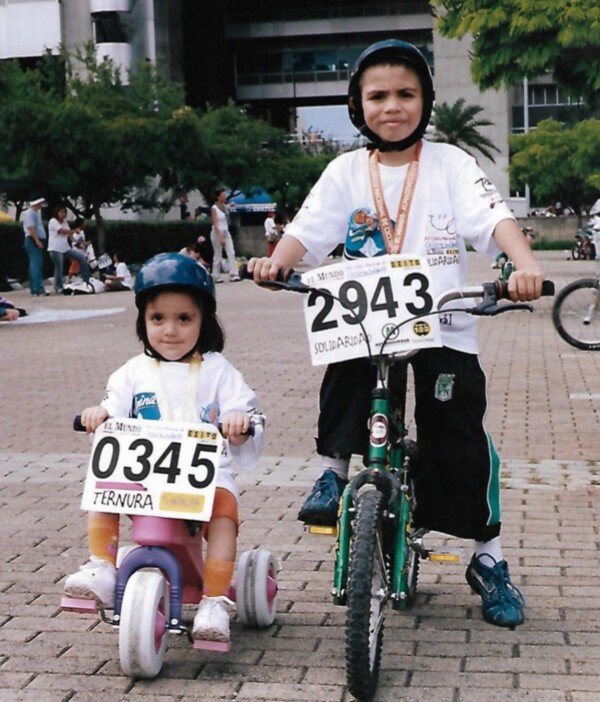 What do you know about Germany? What do Colombians generally think about the Germans? Were you expecting anything in particular?
We usually think that German people are very organised and very… tall. I quickly realised that both are right: there is always a plan and I'm sure that the technical suppliers of bikes and cycling clothing don't need to see my name when they are receiving the sizes: XL, XL, XL… and suddenly XS.
What about German dishes? Is there something in particular that you like or you would never eat?
I love all kind of foods and try to adapt to different cultures. The most famous German dish for us is the Frankfurter Würstchen. It's not easy to pronounce for a Colombian guy. But it's really easy to eat! If you want to know about our cuisine, then check this out on Google: bandeja paisa. If you eat one bandeja paisa, you'll have enough calories for three months, I think.
What's appealing about BORA - hansgrohe? What attracted you to the team?
I had other options. And very good options. But I chose BORA - hansgrohe for one main reason: over the last years, the team showed that they know how to improve the level of the young talents. If you look at the current list of riders at BORA - hansgrohe, there are more than one, two or three riders who were signed as under 23s and are now big stars in the professional peloton. And this is not necessarily only down to good luck or a simple coincidence. It shows that there is a strong and collective knowledge in the team: sports directors, coaches, technical suppliers of bikes, cycling clothes and helmets, for instance…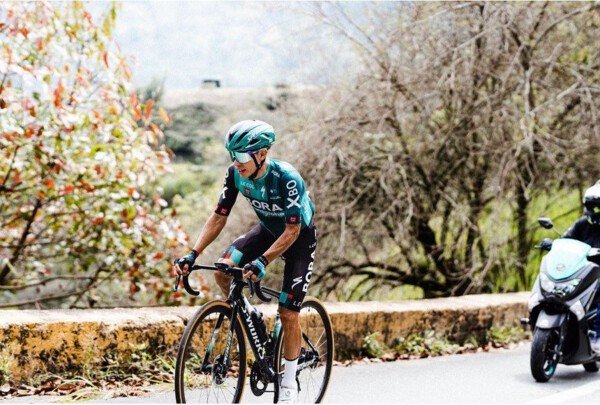 How did you get into cycling?
I started cycling very, very young. When I was four or five years old, I used to run with a small bike. On the very first day I crashed right into a taxi. I broke one of the lights of the car. As you can imagine, it was not the best start, to be honest.
What's most important thing for you in cycling? Why are you still motivated?
The glory. I think that the most important thing for a rider is to be one of the best in the history of cycling. I have big respect for all the riders. And that includes the biggest riders in my country: Lucho Herrera, Fabio Parra… or the biggest names in other countries. When you see a rider like Eddy Merckx or Miguel Indurain, you only can have respect for them. This is my motivation! Being on list and becoming an example for the young people in my country - that's very important to me.
You are the very first Colombian rider on the team. What's special about pro cyclists from Colombia?
We have the advantage of altitude. I live at 1,600 meters all year and when I start training, I am often at more than 2,000 meters. For some periods of the year, I live at an altitude of around 2,600 meters. This is our biggest advantage, I think. We don't need big periods of adaptation for altitude.
Describe the importance of cycling in Colombia or South America in general
I think it's pretty easy to see. You only need to watch the videos of the Tour of Colombia and see how many people are supporting and cheering on the road. In Europe you only can see these crowds at races like the Tour of France. Actually, there is one other thing: Colombian comedians who imitate famous people often focus on cyclists. There are comedians who imitate the voice and gestures of Rigoberto Urán or Nairo Quintana, for example, very well. Surely in other countries they imitate politicians or football players, but in Colombia they also imitate cyclists. It might not be the most important thing, but for me it shows how important cycling is.
Who is your favourite cyclist or hero? And why?
The best rider in cycling is Eddy Merckx. There is no doubt about it when you look at his palmares. Another one would be Alejandro Valverde. He is a very good rider in Grand Tours, one day races… from February to October.
What's your favourite moment on a race day?
The finish line. When you've given everything on the bike and you arrive at the finish line - that is a special feeling!
What's your record for how many bidons you've held in your jersey during a race?
So if I'd give an answer it would sound totally ridiculous (laughs). Consider my body and that of my teammates. I can only handle a very small number of bottles.
Most embarrassing or funniest moment in a race, or on the bike?
The Tour of Langkawi 2017. It was a very long stage and I had a lot of stomach pain right from the beginning. Some of the food in the hotel was bad for me. I hate to leave a race and so I felt like I wasn't able to stop. So I just copied the Dumoulin tactic during the race - just to survive. Dumoulin used this strategy only once during that famous Giro and was aiming for the GC win. Well, I did this at least three times… just to make it to the finish line.
What's something you cannot live without?
Internet and my mobile phone. For sure, we need to be less connected. But for a Colombian rider who spends several months in Europe it's super important to stay in close touch with family and friends in Colombia.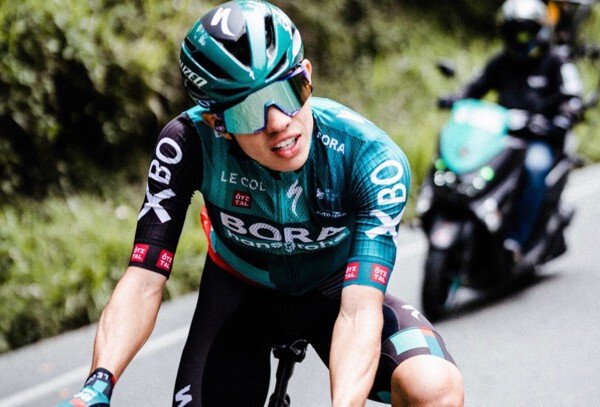 Something you spend a lot of time on, apart from cycling. Any hobbies, gaming, or Netflix? Any recommendations?
I definitely spend some time on Netflix but I really love music. Before an individual time trial, I love listening to electronic music. At other times, I love Metallica, Pink Floyd, Michael Jackson, Queen, Carlos Vives… In Spanish, we say: music is the joy of the soul.
Is there any trip, project, or activity you ever wanted to do? What's on your bucket list?
I'd like to visit Germany now, so I'm waiting for some good suggestions from your end. But honestly, professional cyclists are pretty tired of traveling by the end of the season and so sometimes, I'd rather spend some time at home instead of traveling again for my vacation.
If you could learn to master any skill without trying, what skill would you pick?
Being a doctor in the emergency room. It's super impressive how fast and professional they can react to difficult and unforeseen incidents.
What's your most unusual/hidden talent?
Laughing! It is not a hidden talent. But sometimes it seems very unusual. I am serious about my profession. But I think it is important to laugh and thank the people who are working for you… Sometimes we forget about that. For a group, it is really important to have people who spread good vibes.
What do you do when you need some time off the bike and cycling? What "frees" your mind or keeps you grounded?
Being with my family. They are my best support! Even when everything seems bad, I only need to be with my family and immediately I start to smile.
Where do you see yourself in 2 or 3 years as a cyclist? And where do you see yourself as a person 10 or 15 years from now?
I want to be one of the best riders in the world in 2 or 3 years. I wish to grow and take a new step forward. In 10 or 15 years? I will be connected with cycling. I think that I can offer my knowledge to the young generations from my country.
Describe cycling in 3 words
Love, love, love!
What's a big sporting goal that you want to tick off the list?
To win a three-week tour or a big classic
Do you have any interesting/strange rituals or good luck charms at races?
I pray! I am a religious person and I think that we have to pray before and after a race.
Journalists quite often ask the same questions. One of the most frequently asked questions?
I'm going to answer the question I'm being asked very often: I am not in the same family as René Higuita, the famous Colombian goalkeeper. We have the same surname, we are from the same city, we even live in the same neighbourhood. But we are not family.
What are your goals and main objectives for this season?
I'm sure that when I enjoy racing, the result will come on its own. I'll kick off my season with the Volta ao Algarve before heading to Italy for Strade Bianche. Volta Catalunya, Basque Country and finally the Ardennes Classics will be the final of my spring campaign. I'm focusing on the one-week races and am aiming for a podium there. Later in the season, the Vuelta will be my main objective - racing with my heart and giving back something to my team is very important to me when I think about the Vuelta. The Italian classics towards the end of the season are also something I'm really looking forward to. Those races are still far away but I really like the style of racing and the atmosphere there.