back to the overview
Press Releases | 08.10.2021
BORA - hansgrohe begins a new chapter in the team's history: With Ben Zwiehoff and Lennard Kämna, the team will be participating in the 17th edition of Cape Epic.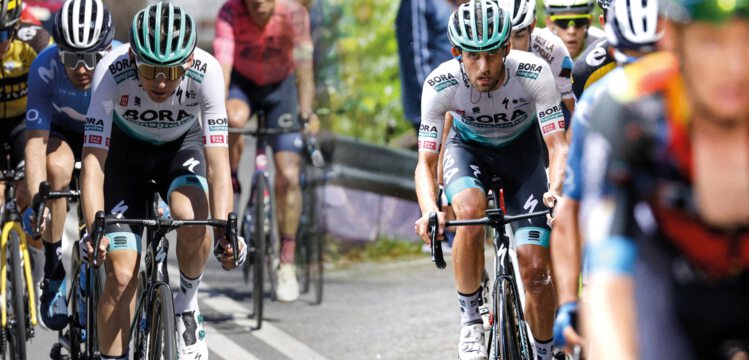 For the first time, BORA - hansgrohe is in action off the road. At the renowned multi-stage MTB race, which will take place from 17-24 October in South Africa, Zwiehoff and Kämna will not necessarily be aiming for top placings. Rather, the experience they gain there will come first and foremost to show fans a new side of the team.
"First of all, it has to be said that our participation in Cape Epic was actually only made possible by its postponement to October. I know the race from the time when I still had a MTB racing squad. In casual conversations, I noticed that there was a lot of interest within the team. The important thing is that we are not at all concerned with obtaining results. Rather, having fun and gaining experience are put into the foreground. But we also want to have the race out in the media and show our fans a new side of BORA – hansgrohe. For us, this will be a little adventure trip of sorts. We would also like to tackle a couple of projects off road in the future. We don't have any concrete plans yet, but I think it's important to give the riders the chance to experience something different from their daily professional routines. Sports tend to become more and more professional and you have to work harder and more meticulously. So it'll be good to see something different for a change, to clear the mind. We want to support that.
I am especially happy that Lennard is, in a way, making his return to racing. He was enthusiastic about the idea from the very beginning and I think that the timing is also very good for him, because afterwards we'll start preparing for the upcoming season. With Ben, he'll have the right man at his side, who comes from the sport of mountain biking and can therefore certainly support Lennard with a few tips and tricks here and there." Ralph Denk, Team Manager
"This will be a journey back to my roots in a way. The last time I was on a MTB was pretty much exactly a year ago, and now I'm able to go back off-road for an anniversary of sorts. I'm also looking forward to experiencing this together with Lennard. I want to support him with a few tips and also give back a bit of the help that I received from him at the beginning of the year. It will also be cool to see my former colleagues again and have a good time together. The courses have become technically quite demanding over the past few years. It's going to be fun shredding the trails on Specialized bikes for sure." - Ben Zwiehoff
"For me, this is a completely new challenge. I come from the north of Germany and only sat on a mountain bike for the first time this year. Of course, I have a lot of respect for Cape Epic, and I'm also looking forward to it. There is a general tendency for some riders to ride more often in different disciplines, but I don't have that goal at the moment, it will remain a one-off for now. But I can completely understand the attraction of seeing and experiencing something different. My preparation was okay, but I definitely have some technical deficits, which doesn't matter so much in the end, because it's more about having fun." - Lennard Kämna