back to the overview
Press Releases | 27.10.2020
Ide Schelling takes 8th following day in the break on the 7th stage of the Vuelta a Espana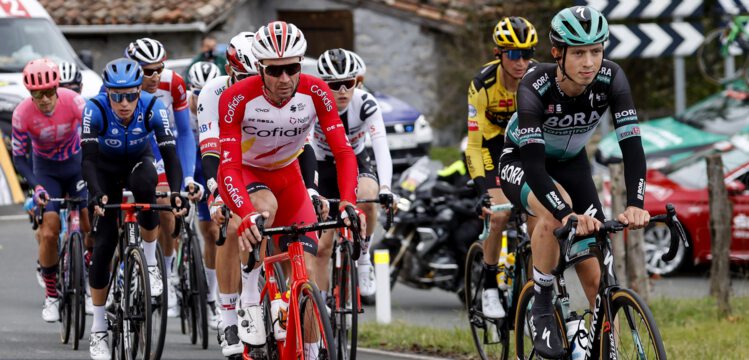 Having completed the first rest day, the riders set off on a demanding 160 km route from Vitoria Gasteiz to Villanueva de Valdegovia. The Puerto de Orduna (1st cat.) had to be conquered twice, with the second cresting of the ascent coming less than 20 km from the finish. After a series of unsuccessful attempts, a 34-man breakaway group, including Ide Schelling, managed to escape from the peloton. The field, led by Ineos Grenadiers, remained attentive to the gap, which consequently didn't exceed 3 minutes during the stage. With 60 km remaining, Jay McCarthy crashed out of the race and was taken to hospital for further examinations.
In the decisive phase of the race there were several attacks, with Ide Schelling also trying to break away from the leading group. In the end, a quintet managed to establish a small gap, while behind them a thinned-out chasing group including Ide was hot on their heels in pursuit. Over the final 10 km, the leaders were left to fight out the win amongst themselves, with a last-minute attack by M. Woods giving him the stage honours. Ide crossed the finish line in eighth place, only 13 seconds behind the Canadian victor, while Felix Großschartner maintained his 6th place in the overall standings.
At the moment we are yet to receive further details about Jay's condition, but will provide an update as soon as possible.
Result
01 M. Woods 3:48:16
02 O. Fraile +0:04
03 A. Valverde +0:08
08 I. Schelling +0:13
From the Finish Line
"We started with a breakaway group of 15 riders, which then grew considerably on the first climb. But, all in all, the group worked well together. I felt good on the last climb and was able to stay in front. After that, five riders broke away and despite working well together, we were unable to catch up with them. I was close, but in the end my legs didn't have enough and so ultimately I wasn't able to fight for the win." - Ide Schelling
"Today was another hard-fought day in the saddle. Right from the start, the racing was full gas. It took a long time until an escape group was able to form. We were right up there with Ide, and we can be very satisfied with his performance in the break. With the strong leading group, not much more was possible today. Felix oriented himself to the other GC riders and didn't lose any time. So the riders' performances were good today, but of course it's sad that Jay has had to leave the race because of his crash." - André Schulze, Sports Director