argon.press.detail.back-to-overview
Press Releases | 23.08.2019
Rafal Majka, Davide Formolo and Sam Bennett to lead BORA - hansgrohe at La Vuelta a España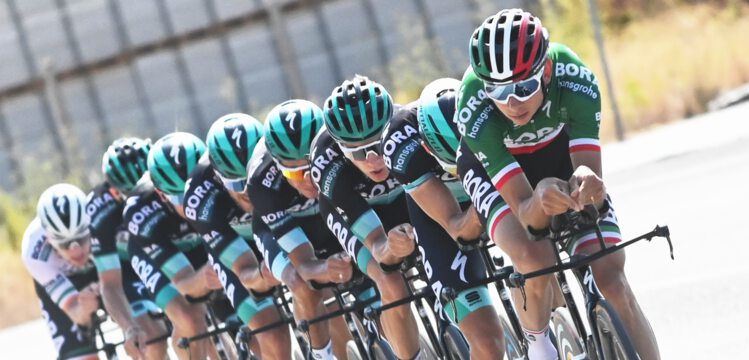 Rafal Majka, sixth at this year's Giro d'Italia & Volta a Catalunya stage winner Davide Formolo will lead BORA - hansgrohe at the 76th edition of La Vuelta a España together with three-time Binck Bank Tour stage winner Sam Bennett . The trio will be supported by Tour of Turkey overall winner Felix Großschartner, Czech Tour stage winner Shane Archbold, Gregor Mühlberger, who showed his strength at this year's Tour de France and Criterium du Dauphine, and breakaway specialists Pawel Poljanski and Jempy Drucker with the team from Raubling motivated for the third Grand Tour of the year.


Sam Bennett:
"Binck Bank was, especially with the three stage wins in a row, a great training race ahead of La Vuelta. It will be my first participation here in Spain, and I think with 6 flat and 4 hilly stages, there are a lot of opportunities for me to achieve one or more wins. I feel in good shape and I also think that we have a strong team here, therefore, I will try my best in the upcoming weeks."


Rafal Majka:
"Tour de Pologne was a good preparation and with Davide and me in the top ten, I think, it's a good sign. La Vuelta is a nice race with some mountain stages, which should fit me. But a Grand Tour always has its own rules, a lot can happen in three weeks. However, we have a strong team here and we will do our best."


Davide Formolo:
"I am motivated for the next three weeks. Rafal and I had a good preparation during Tour de Pologne and already worked well together at the Giro. Therefore, I am looking forward to lining up for another Grand Tour with him and seeing what we can do."


Felix Großschartner:
"This will be my first La Vuelta and I am really looking forward to it. My preparation for this race went well and I am happy to help Rafal in the tough mountain stages. Of course, if I get chances to try something I will take them."


Jempy Drucker:
"My first season together with BORA - hansgrohe has not started in the way that we both hoped. After my crash and a long comeback, I am more than happy to be able to take part in the Vuelta, a race where I celebrated one of the biggest victories in my career. I am looking forward to racing with these strong riders over the upcoming three weeks and I hope I can help them to achieve some great results."


Ralph Denk, Team Manager:
"After a successful Giro d'Italia and Tour de France, our expectations for La Vuelta are high. I think we have a strong group at the Vuelta and our goals are, just like the previous Grand Tours, to win at least one stage and to have a Top Ten overall result. I wish our riders and staff all the best and overall, I think it will be an exciting Vuelta."