back to the overview
Team Interviews | 01.12.2022
BORA - hansgrohe newcomer Nico Denz: Loyal soul, all-rounder, family man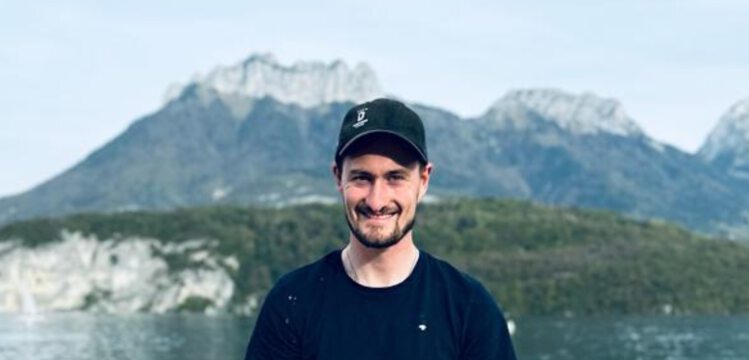 "Nowhere absolutely outstanding but useful everywhere and versatile. An all-rounder with his best years still ahead of him!" Nico Denz describes himself and his qualities as a professional rider. The BORA - hansgrohe newcomer and Tour de Suisse stage winner is an experienced and loyal worker on the bike. Away from cycling, the 28-year-old German is also a family man and student.
It's December: How did you spend your offseason?
I spend a lot of time with my family. During the season I'm on the road for several weeks, so having autumn with my wife and two children is very important to me. We go on relaxing weekend trips and spend a lot of time at home - for me it's the best regeneration after an exhausting season in the saddle.
What does your winter training look like? Frozen in Freiburg or under the Spanish sun?
I spent the first part of my winter training at home on the Hochrhein, south of Freiburg. That consisted of many cold hours on the bike combined with strength training. Currently, I'm in Girona doing the next training block under the Spanish sun. I will then continue with the BORA - hansgrohe team camp on Mallorca.
You spent most of your career in France. After three years with Sunweb and DSM you are now under contract with a German-speaking team for the first time. Do you feel like you're coming home?
Definitely! BORA - hansgrohe is the flagship of German cycling and I'm very happy to wear the colours of this team as a German rider.
In October you were able to get to know the team at the camp in Sölden. What were your first impressions?
My new teammates and the staff gave me a very warm welcome, and I instantly felt at home. Apart from some entertaining leisure activities, we also had planning meetings, bike fitting and medical examinations. Overall, I was able to build the anticipation and motivation in Ötztal.
You are 28 and already heading into your ninth season as a pro: Where do you see yourself in terms of your personal development?
I think that my best years are still ahead of me! Over the last few seasons, I gained a lot of experience and see myself more and more in the role of a road captain.
As a helper, I'm very loyal. A loyal worker who is not too good for any task.
What are your goals for 2023 and your first season at BORA - hansgrohe?
I want to contribute my part to the team's success, integrate well into the squad, and of course celebrate victories together with the team leaders.
What type of rider would you describe yourself as?
Nowhere absolutely outstanding, but useful everywhere and versatile. A classic all-rounder!
At the Tour de Suisse 2022 you were successful on the mountaintop finish at Moosalp. Did you discover new qualities in yourself as a mountain rider?
The strength on that climb didn't come as a complete surprise to me. I'm not a classic mountain rider, but on a good day I can ride well up the climbs. Not at the level of a classification rider, but definitely fast enough to get a stage win from a leading group.
Two times Vuelta, five times Giro - the Tour de France is still missing for the Francophile Nico Denz: is it a big goal?
The Tour is a big dream and by the end of my career, I think shouldn't be missing from my palmarès.
What motivates you?
My family!
What do you do to relax and clear your mind?
Spending time with my children, my wife and our dog. Here I can leave the cycling world behind and just be the family man Nico Denz.
Cycling in three words:
Speed - adrenaline - endorphins
Your favourite moment in the race?
When your legs are turning well and you feel like you can fight for the win.
If you hadn't become a professional cyclist, what would you be doing today?
I might have been an industrial engineer, or at least I started studying in that direction a few years ago. In the meantime, I'm studying business administration alongside cycling. But I'm currently very happy with my job as a professional cyclist.
The new season is just around the corner: Where will we see you in the BORA - hansgrohe jersey for the first time?
Definitely on the first of January during my New Year's ride. With a start number on my jersey, maybe at the Mallorca Challenge at the end of January.