back to the overview
Press Releases | 15.02.2020
Superior Lennard Kämna finishes Vuelta Ciclista Murcia in third overall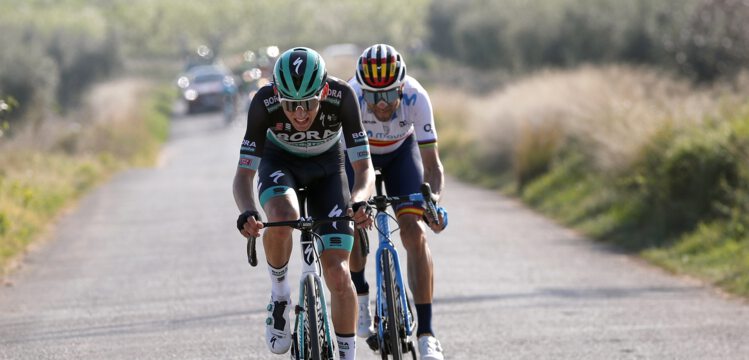 Also on the last stage of the Vuelta Ciclista Murcia a break went away early from the bunch. But this time the peloton never lost control of the race and when A. Valverde launched an attack on the penultimate climb of the day (HC category), all breakaway riders were caught, and a new 5-men leading group formed. For BORA – hansgrohe it was again Lennard Kämna who was part of this group, eager to take the overall victory in Spain. Kämna showed yet another superior performance today. He dropped together with Valverde the other breakaway riders on the last climb, to virtually leading the GC of the race with 35 km to go. But when Astana, who earlier had two riders at the front, started to help CCC pulling in a 7-rider chasing group of which also Felix Großschartner was part of, it was impossible for the leading duo to stay away. With 12 km to go Kämna and Valverde were caught and with a late move L. Sanchez finally took the stage. Kämna who finished the day in fifth place, improved to third at the Vuelta Ciclista Murcia final general classification.
Results
Stage 2
01 L. Sanchez 4:21:47
02 O. Fraile +0:07
03 J. Cerny +0:07
05 L. Kämna +0:07
...
08 F. Großschartner +0:20
General Classification
01 X. Meurisse 8:45:55
02 J. Cerny +0:11
03 L. Kämna +0:17
...
15 F. Großschartner +17:02
From the Finish Line
"Well, what can you do. I tried everything until the end to win this race, unfortunately it didn't work out. When Valverde attacked for the first time, Felix did a great job to ride at a high pace behind him. When we closed the gap, I made a move and the 5 riders went away. We had to do something when not everybody was riding in the group and the gap started to come down. Valverde went again and I was able to follow. It looked quite promising at some point; however, it wasn't enough. But still I am happy with my results here and especially with my performance. My next race is Algarve and with an ITT at the very end I think I can do also quite well over there." – Lennard Kämna
"This was a great ride from Lennard today. The stage was incredible fast from the beginning and it was clear that Valverde wants to try something after Movistar always controlled the race. It was impressive how Lennard was able to dominate the race together with Alejandro. They dropped their breakaway companions with about 40 or 35 km to go and until the last 20 kilometers I really thought we would win this. But after being dropped from the leaders, Astana helped CCC in the chasing group. It was impossible to stay away at the end with these big roads. Felix tried to attack once Lennard was caught, but unfortunately without success. Still we can be very happy with the performance of our guys today." – Jens Zemke, Sports Director