back to the overview
Lifestyle Blog | 14.05.2019
Pascal Ackermann – from bike to bathroom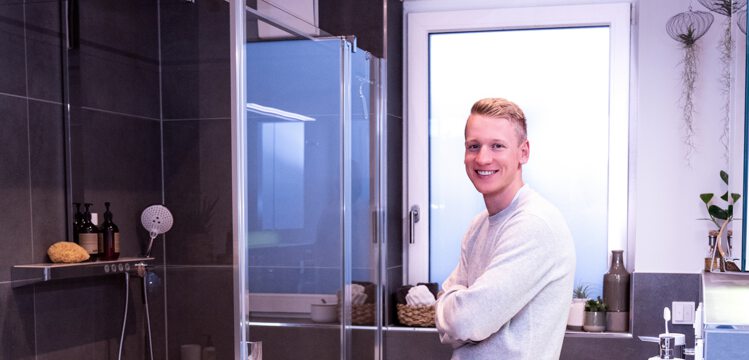 Young, full-time professional cyclist Pascal Ackermann of Rhineland-Palatinate has had a successful season, clinching what just might be the most prestigious win for professional German cyclists – the German National Road Race Championships. The 25-year-old's career has been on the up and up since 2017. Last season, he managed to secure five stage wins and four day wins for his team of professionals, BORA – hansgrohe, for which he's been competing for two years. But Pascal is also making headway in his personal life: at the beginning of 2019, he moved into his own place for the first time, where he can enjoy the calm before the storm, has time to recharge his batteries both before and after his competitions, and can leave his everyday cares behind. And there's no better place to do just that than his wellness bathroom.
The new flat is the perfect place for Pascal Ackermann to escape the daily hustle and bustle of professional cycling. Measuring 115 square metres, it offers plenty of space to relax and unwind. For example, in the new bathrooms developed in collaboration with Pascal's title sponsor hansgrohe, the tap and shower specialist. 'It's important for professional cyclists to allow their body time to recuperate particularly after an intensive training session, so they can effectively prepare for the next stages and competitions,' says Pascal Ackermann. He is well aware that the body is only able to increase its fitness levels after the activity. The secret to the German champion's success is therefore a long shower after training, which is said to promote recuperation.
Relaxation after sport
Pascal Ackermann has created a 'wellness bathroom' with invigorating shower in his flat, where he enjoys the Rainmaker Select Showerpipe 460. He opted for this shower first and foremost because of its three different spray modes, which can easily be selected with the press of a button. 'The targeted spray of the MonoRain setting helps with tension and pain by focusing on and massaging individual muscle groups, which repairs the damaged muscle tissue,' explains the cycling expert. Whether full shower rain, soft and voluminous sprays, or a targeted spray, the wellness fan enjoys the shower system's three-spray luxury comprising overhead and hand shower.
Cleaning at a sprint
The professional sprinter values convenience above all else when it comes to taps, and combined the wall-mounted taps of the hansgrohe PuraVida range to create an angular sink. For the PuraVida single lever basin mixer 110, convenience is everything. The QuickClean system allows you to remove dirt and limescale from the shower head in a flash. 'That saves me time when I'm cleaning,' smiles Pascal, who aspires to top speed even off his bike. The flexible silicone nozzles can simply be wiped with the fingers to make limescale and dirt disappear as if by magic.
Special licence for guests
Having taken part in countless international competitions, Pascal Ackermann has acquaintances all over the world, so it's not unusual for him to welcome guests into his home. That's why he places such a high value on design and convenience in the guest bathroom. With the generous proportions of the PuraVida single lever basin mixer 100, his guests, most of whom are athletic, have plenty of space to wash their hands and hair or even fill bulky objects. 'There needed to be plenty of space below the tap,' says Pascal. 'So you can wash your cycling shoes or fill a large sports bottle.'
Cyclist for the environment
The environment is also important to the German super sprint cyclist. In his personal life, Pascal embodies a sustainable lifestyle and is happy to hop on his bike even when he's not training. 'I try to avoid using the car as often as possible,' says Pascal, who's been cycling since the age of six. So it's only natural that he opted exclusively for hansgrohe products with the EcoSmart technology. These products consume up to 60 per cent less water than conventional products, and low consumption of warm water reduces energy consumption. 'Despite a reduced flow of water, the taps and showers offer a full, voluminous spray of water,' says Pascal Ackermann.
Is a wellness bathroom really the key to success? That's something the German National Road Race Champion will have to determine for himself this season. But one thing is already certain: Pascal's bathrooms are the clear leader of the peloton. And the faster he pedals, the sooner he'll be able to enjoy the relaxing shower in the new bathroom.