back to the overview
Press Releases | 16.01.2019
Deja vu for Peter Sagan in Tour Down Under as he repeats 2018 victory to take first 2019 win.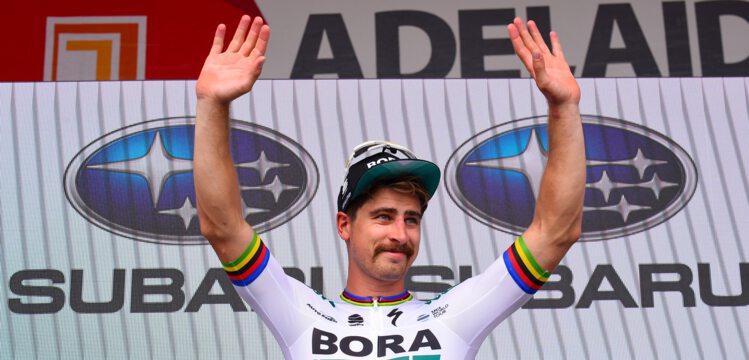 In a carbon copy of stage 4 of the 2018 race, the Slovak National Champion, Peter Sagan, used his local knowledge to take the win on a punishing stage from Lobethal to Uraidla. While the terrain was tough, Peter was kept in contention with a strong support effort from his BORA-hansgrohe teammates, with three of the team helping Peter stay in touch as the other all-rounders were dropped on the hard final climbs. While some late attacks threatened to snatch the top prize, Peter kept his head and pushed hard to take the victory. The win moves Peter into second in the GC and will wear the race's blue points jersey tomorrow.
Two passes of an opening 17.1km circuit, followed by a ride to a 13.9km loop ridden seven times to end the day to make146.2km in total, today's stage was much more undulating than the previous days' racing, with more than 3,000m of climbing. In spite of the amount of climbing, if the stronger all-rounders could stay in contention, they would have a shot at the win. In the opening 10km, seven riders stepped up to make the day's break, clearly not deterred by the amount of climbing ahead of them. With the weather a more gentle 32°C, this allowed the break to build an advantage over the peloton, albeit never much more than three minutes over the course of the day. As the day went on, it was clear the break wasn't going to last, dropping riders from 50km out and finally being swept up at 13km to go. It was here the race exploded into action and the speeds ramped up as the severe pace saw the peloton become a select group as the riders fell off the back. As the final 2km came into view, the attacks started, with Jay McCarthy and the Austrian National Champion, Lukas Pöstlberger working hard to pull them back and the Slovak National Champion, Peter Sagan, riding hard and staying in contact. Once the finishing straight came into view, there was no doubt who would take the win – having taken the stage here last year, Peter's intimate knowledge of the route put him in a perfect position, surging ahead and claiming his first victory of the Tour Down Under, and of the 2019 season.
Results
01 P.Sagan 3h46'06"
02 L.L.Sanchez + 0:00
03 D.Impey + 0:00
04 D.van Poppel + 0:00
05 P.Bevin + 0:00
From the Finish Line
"I am very happy to take this win. The guys from CCC controlled the pace and then BORA-hansgrohe worked hard to keep me on the front and take care of me, keeping me hydrated. In the end it was a great finish – when we passed the last climb I thought it was going to be like last year and in the end it just happened exactly the same. It was much better having some experience of a finale like this and I'm very happy we came to the finish with climbers because it made the sprint easier, but Sanchez was really close to taking the win." – Peter Sagan
"It was a hard stage but the entire team put on a strong effort and worked so well to get the win. When the peloton started to thin out and got down to a select group of 50, we had four guys in the front. They did an excellent job in the last kilometres, keeping things under control and neutralizing all attempts to attack. Then, Peter finished this effort with a perfect sprint and we're, obviously, very happy with this result. Tomorrow will be another hard stage with a tough climb before the finish, so we'll see how the race unfolds and take our chances." – Patxi Vila