back to the overview
Press Releases | 15.01.2019
Peter Sagan takes third after crash creates chaotic sprint finish on stage 2 of Tour Down Under.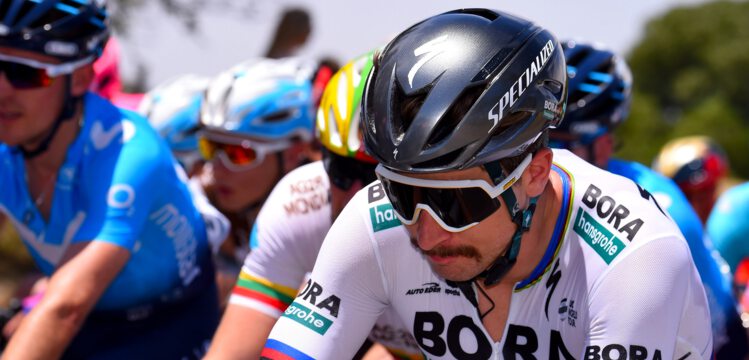 It was another scorching day at the Tour Down Under, with riders already feeling the full effects of the Australian heat. A shortened stage saw the day taking place on a parcours almost 30km shorter than planned, but riders pushed hard from the start, with two breakaways making the peloton work hard for the predicted uphill bunch sprint. This looked to be the case until a huge crash with less than 1km to go blocked the road and saw riders frantically trying to recover. The Slovak National Champion, Peter Sagan, took third, avoiding the chaos of the crash, with his BORA-hansgrohe teammates finishing safely and ready to contest the later stages.
With temperatures expected to hit 40°C, stage 2 of the Tour Down Under had been shortened from 149km to 122.1km. This would be a welcome decision for riders, given that the parcours saw more climbing than the race's opener, including the second category Checker Hill which, at 13.3%, would be even tougher in the heat. This didn't deter riders from attacking, with a determined trio going off early and building a lead of 3:30 on the peloton. As the temperatures climbed, the break started to suffer and were swept up by the bunch, but no sooner were they caught, another break went off, leaving one determined rider up the road. With 5km remaining though, the pace rose, the peloton wanting to take the win and the catch was made with less than 3km to go, the BORA-hansgrohe riders out in force on the front. Having just passed under the flamme rouge, a huge crash took out most of the bunch, blocking the entire road and blowing the finale to pieces. Coming through unscathed, Peter Sagan took third in a reduced bunch sprint, a strong finish after a hot and hectic day.
Results
01 P.Bevin 3h14'31"
02 C.Ewan + 0:00
03 P.Sagan + 0:00
04 D.van Poppel + 0:00
05 J.Philipsen + 0:00
From the Finish Line
"Although there was a crash in the finale today, I think that yesterday's sprint was more dangerous. Today was on a slight climb and it was more about legs. I wasn't affected by the crash though as it happened behind me. I think someone touched my back wheel. When Luis León Sanchez attacked, I stayed behind him but Patrick Bevin won quite easily. Tomorrow will be a harder stage than the first two ones but I will see what I'll do. I'm not going to decide now, I'll see during the stage what chances I have. As I said, I'm here mainly to train and if I can get something or a stage win then it will be fine but even if I don't, I will not be worried." – Peter Sagan
"It was a really warm stage and I think the right decision was taken to shorten it a bit. All riders were cooked and although it might have seemed not to be too exciting from outside, it was hard for the riders with 40°C temperatures. In the end, it came to a bunch sprint where Peter scored a very good third place. Once again, the team worked well to help him and overall, I think we had a good result today." – Steffen Radochla, Sport Director