back to the overview
Team News | 17.07.2016
12th place for Bartosz on the difficult 15th stage.
Emanuel still in touch with the top 20.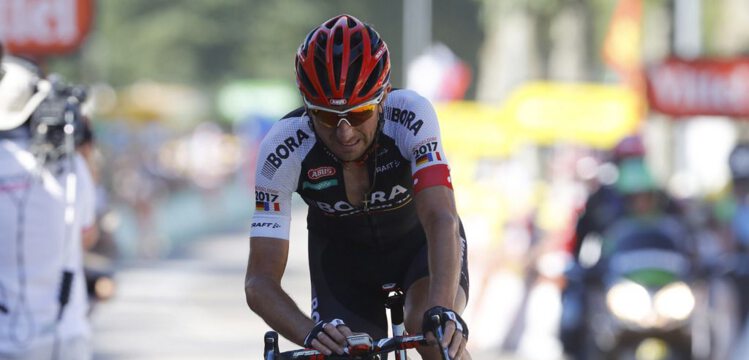 The 15th stage from Bourg-En-Bresse with 160 kilometres to Culoz included not less than 6 cotogarised climbs.
Immediately after the official start, there were many attacks but not one of success. At the beginning of the first climb the speed was that high that nobody could attack and many riders had already problems to stay in the peloton. Shortly before the first KOM, 2 riders could go clear. In the downhill another 26 riders closed the gap. From BORA – ARGON 18 it was Bartosz Huzarski who was in this group. He could save 11 points at the only intermediate sprint today.
On the climb to the Grand Colombier, a climb of the highest category (HC), the leading group split completely up. Bartosz lost contact 4,5k before the KOM, fought great and came back again. But 1,2 k before the end of the climb, the pace was to high for him. The gap at this time to the group with the yellow jersey was over 8 minutes.
Shortly before the KOM, R.Majka and J.Pantano attacked. Behind them chased many small groups, also one with Bartosz. In a very strong final he caught up many riders and finished in a good 12th place, +2'10'' behind the winner Jarlinson Pantano (IAM).
Emanuel Buchmann lost 12 minutes on today's stage winner and sitts now in 21st place in teh GC. Still he is in touch with the top 20.
"Today it was not a good day for me, my legs were not the best. At the beginning I tried to go to the group, but I did not have the legs. It was extremely hot, the air was standing still and my legs were not good enough to ride with the best. After more than 2 weeks of racing, it can happen that the legs were not the best anymore. I hope that it will be better after the rest day. In the next week I will try to go in groups again because the plan is still to go for a stage win." – Emanuel Buchmann
"It was hard in the breakaway, because the group built in the first long climb. The pace was good because the cooperation was very well and all riders worked together. At first it was quiet easy, but the race started at the feed zone were the attacks began. From kilometre 100 it was really hard, always full gas and many climbs. Last 60 k's very really really hard but I gave my best. I tried to do a TOP 10 again. Still we have 3-4 days for a good result. I felt good today but I'm just to heavy for this climbs. It's not easy for me to fight with guys like Rolland, Majka and Pantano which are skinny and good climbers, but I tried to do the best. I'm happy with my result and my race today." – Bartosz Huzarski