back to the overview
Team News | 22.04.2016
Patrick Konrad 5th overall in Giro del Trentino.
Also Buchmann in the top ten in 8th place.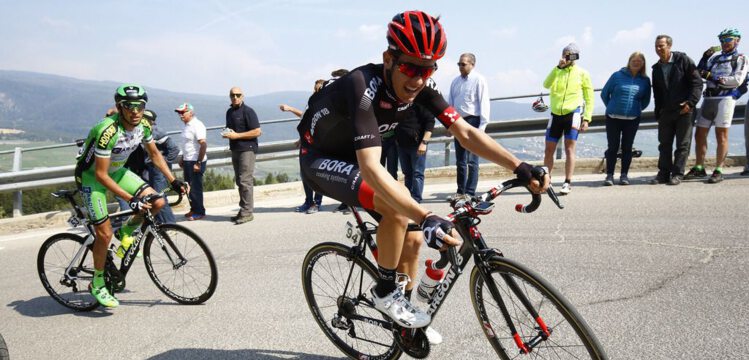 Today's final stage of the Giro del Trentino over 161 kilometres to Cles, was a real final test for the peloton. Four mountains and a hilly parkour all day long have been a perfect invitation to challenge the overall leader Mikel Landa.
Astana started their move already on the first climb of the day when V. Nibali attacked together with D. Cunego and A. Foliforov. The trio worked well together and controlled the race the whole day until the final climb. When also AG2R started to attack the overall leader, the breakaway was over soon. At that point of the race also Emanuel Buchmann and Patrick Konrad from BORA – ARGON 18 have been in trouble and could not follow the first group of 6 men. On the decent however, both came back with a second group which meant a leading group of 14 rider on the head of the race with 20k to go.
But also this last 20k were very demanding with small step uphill sections again and again. In this terrain, with 5k to go, S. Parazzi and C.P. Peraud made a move with Landa being on his own. Emanuel Buchmann then started to pull hard on the front for his teammate Patrick Konrad who proved already yesterday his sprinting abilities. Buchmann pulled back the leaders on the final kilometre and put Konrad in a perfect position. But the young Austrian had to pay tribute to the hard racing the whole day, he finished 5th which still is a good result. With this performance he also climbed up again one spot in the GC which he therefore finished also in 5th place. The stage win took again T. Kangert, with M. Landa securing his overall victory. Also Emanuell Buchmann remained in the top ten of the general classification in 8th place. With two riders in the top ten of the GC and one podium yesterday, BORA – ARGON 18 can be very satisfied with a strong performance in the Giro del Trentino.
"The race was really hard from the beginning, as I expected already yesterday. A big thank you to the team, again they did a great job to protect Emu (Buchmann) and me until the last climb. I struggled then to stay with the best climbers, but I was not far off and could come back together with Emu on the decent. In the end the tactic has been that Emu should try to keep the group together and I go for the sprint. He did a great job by pulling back the two riders on the last 2k, but my legs were too tired already from the hard race. I would have loved to pay back Emu's effort with another podium, but I am very happy with my 5th place in the GC. It also gives me a lot of confidence to see that I am up there again." – Patrick Konrad
"The team did a great job again today. The race was really fast from the beginning because of the attack from Nibali. Our goal was to protect Emu (Buchmann) and Patrick (Konrad) and help them to save energy until the last climb. Both suffered then but they were together and just a few seconds behind the first group on the top of the last climb. On the decent they closed the gap and afterwards Emu supported Patrick who showed yesterday a strong sprint. It would have been great to finish again on the podium, but I am happy with the performance today and the whole week. Our goal was to win one stage and finish with one rider in the top ten of the GC. We just missed out the stage win but have now 2 guys in the top ten of the GC, therefore we can be really satisfied." – Enrico Poitschke, sports director