back to the overview
Team News | 19.03.2016
Best ever result for BORA - ARGON 18 in Sanremo.
Jan Bárta in the group of the day. Paul Voss finishes in 23rd place.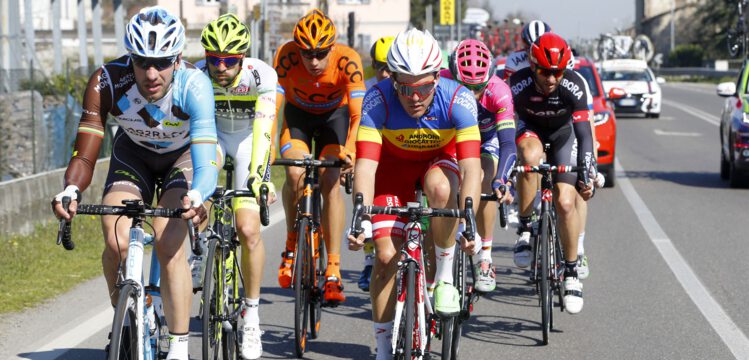 Today's 107th edition of Milano – Sanremo, the first "Monument" of the season, kicked off with a fast first hour. More than 47km were covered in this 60 minutes, and like expected, a breakaway managed to get clear from the peloton. Jan Bárta was again one of the 11 men that built a solid lead of up to almost 12 minutes. He also was part of the early breakaway in "la primavera" in 2015 and 2014.
A landslide at KM 160 forced the organiser to find an alternative route over the highway for 9k, all in all the parkour therefore was increased to 295km in total. In the peloton Tinkoff and Katusha were the teams to take responsibility and the gap constantly came down to under 4 minutes with 80k to go.
On the cost of Liguria the fight for the best positions in the peloton was opened. The pace was very high and the breakaway had an end on the Cipressa climb with 25k to go. Jan spent almost 260 kilometres at the front of the race.
In the final Michal Kwiatkowski attacked on the Poggio, but was caught in the downhill. A group of about 30 riders entered the last kilometre and all was set for a sprint finish. Within this group of favourites was Paul Voss from BORA – ARGON 18 who scored the best result ever for the team in Milano – Sanremo with his 23rd place. Great ride from Paul, who also showed his good shape in Tirreno – Adriatico a few days ago. The proud winner of the day in a frantic sprint finish, which was also influenced by a crash in the last 500m, was Arnaud Démare.
"We can be satisfied today. Jan did ride the best race of his season so far and it was important to be in that breakaway group. Looks like he becomes a real Sanremo specialist. Unfortunately, our sprinter, Sam Bennett, crashed between Capo Berta and Cipressa. Originally we planed to support him in the final. After the crash we changed tactics and Dominik Nerz and Patrick Konrad helped Paul Voss. Paul again showed his great shape and was able to go over the Poggio with the best. In the sprint others have been faster, but his 23rd place is the best result in Sanremo for our team." – Ralph Denk, teammanager
"Today I had good legs again. There were a lot of crashes in the final and it was hard to keep a good position the peloton. Dominik (Nerz) and CeCe (C. Benedetti) made a great job to lead me in the Poggio. I could stay then in the group of favourites, but in the sprint my position was not the best and so I also was effected a little from the last crash. But anyway, I think the result is great and I am not a sprint specialist." - Paul Voss
"The final was totally frantic, crashes again and again. We lost 3 men in this crashes, unfortunately also Sam (Bennett). We changed tactics then and I tried together with Dominik (Nerz) to lead Paul in a good position into the Poggio." - Patrick Konrad