back to overview
Rezepte | 03.08.2020
Roasted quinoa salad with carrots and oranges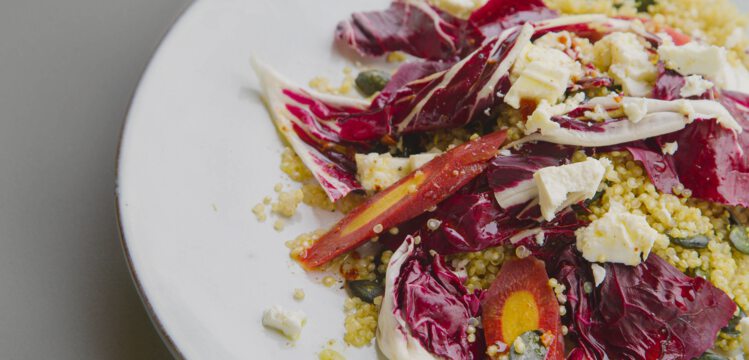 Organic ingredients (serves 4):
200 g quinoa, cooked in salt water and cooled
500 g carrots (e.g. purple primeval carrots), peeled and sliced
30 g pumpkin seeds
A little cooking olive oil
1 small radicchio, torn into bite-size pieces
1 orange, segmented
200 g feta
For the dressing:
1 tsp harissa paste or spice
Juice of 1 orange
100 ml olive oil
100 ml white wine vinegar
1 dash of agave syrup
Natural or sea salt
Ground pepper
Method:
Place the quinoa, carrots and pumpkin seeds in a little cooking olive oil on the Tepan stainless steel grill or in a pan and cook at 220 degrees until the carrots are still al dente but cooked through. Transfer everything to a bowl or plate and leave to cool slightly.

Mix together all of the ingredients for dressing and add the radicchio and orange segments to the quinoa. Pour the dressing over the quinoa and mix well. Crumble the feta onto the salad as a topping and garnish with fresh, chopped parsley to taste.