back to overview
Rezepte | 19.07.2020
Sweet potato chips with tzatziki dip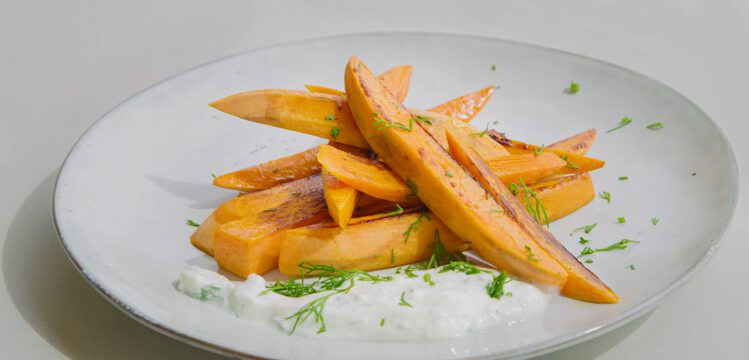 Organic ingredients (serves 4):
1.2 kg sweet potatoes, peeled and washed
A little cooking olive oil
Natural or sea salt
Ground pepper

For the tzatziki dip:
500 g sheep's milk yogurt
6–7 sprigs of fresh dill, finely chopped
1 heaped tsp dried mint
1⁄2 cucumber, de-seeded, finely grated
1⁄2 lemon
1 garlic clove, finely pressed
Natural or sea salt
Ground pepper
Method:
Cut the sweet potatoes into finger-thick chips and cook in a little cooking olive oil on the Tepan stainless steel grill at 210 degrees until they are crispy on the outside and soft and tender on the inside, then season with salt and pepper.

Meanwhile, combine all the ingredients for the tzatziki dip and leave to steep. Serve the chips with the dip and a little extra fresh, finely chopped dill.