back to overview
Rezepte | 05.07.2020
Asian summer rolls with salmon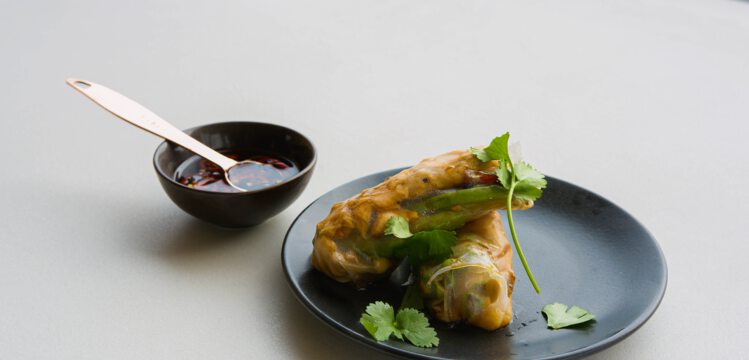 Organic ingredients (serves 4):
800 g salmon fillets (à 200g)
A little sesame oil
Salt and pepper
Sheets of rice paper
1 avocado, peeled, de-stoned and sliced
1 bunch of Asian herbs (e.g. coriander, Thai basil), roughly plucked
2 spring onions, finely sliced
1 cucumber, de-seeded and cut into fine strips
1 handful of wasabi nuts, coarsely chopped
For the marinade:
250 ml soy sauce
1 tbsp honey
1 dash of lime juice
1 tbsp sesame oil
1 chilli pepper, finely sliced
A little finely grated ginger and garlic to taste
Method:
To create the marinade, combine all the ingredients and season to taste. Place the salmon fillets in a little sesame oil in a pan or on the Tepan stainless steel grill, drizzle with a little marinade and cook on all sides over a medium heat. The salmon fillets are done when they are still slightly transparent in the middle but individual segments can be easily flaked off.
Bring a pan of water to the boil for the sheets of rice paper. Hold the sheets in the hot water for 1–2 seconds then place on a plate. Place pieces of salmon, a little marinade, avocado, herbs, spring onions, cucumber strips and wasabi nuts on the lower half of the sheets leaving an approx. 2 centimetre gap at each side. Fold the lower half up over the top half and fold in the sides. Roll up the summer roll and serve with the marinade as a dip.